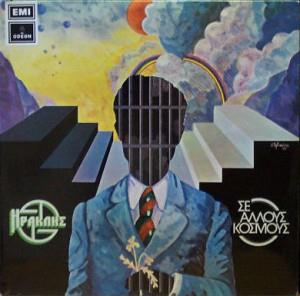 The first of in total three albums from this Greece band.
The Greece alphabet is not easy to understand so please bear over me here. From what I gather, this band was an eight members combo + three guest musicians on this album. An album which includes a lot of strings, violins, flutes, harmonica, Greek vocals, bass, drums and guitars.
The sound is really good here. The music is a mix of Greece folk music, pop and psychedelic rock. This album has a very large flavour of Greece incorporated. From the instruments and the vocals to the music. Most of this album is very much a folk rock album. It even includes some belching sheep and lambs.
The psychedelic bit also comes to the fore on some songs and is never really far away throughout.
I am not a big fan of Greek folk music and have my reservations. When that is said, this is a good album with some good songs and details throughout. It will not occupy my speakers that much in the future. For those into folk music with some psychedelic rock; this is an album for you.
3 points