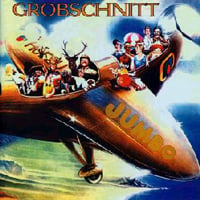 The third album from this German band. One of the biggest German bands of all time. I though have serious problems with this band. Their first two albums and the Solar Lover stuff is very good. My problem is the rest of the albums which I find pretty weak and lacking in substance.
Jumbo is one of them. Hammond organs with some guitars, bass and drums. That and some strange vocals. I have no problems with German lyrics at all as such. The vocals here is pretty dull though. The music here is pretty standard rock'n'roll with German humour and krautrock liveliness. I am failing to really get into this music. The material here is dull.
A couple of decent melody lines and songs is saving this album from the scrapyard. This album and this type of music is failing to find an appreciate audience in my household.
2 points