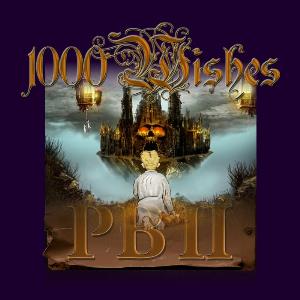 The second album from this band who were previously known as Plackband.
PBII is a Dutch neo prog band. 1000 Wishes is a concept album with narrations and the full concept album package. It is also a very moving concept album about Eric, a nine years old leukemia sufferer and his fight against this horrible, horrible illness. No nine years old boy should have to endure leukemia.
This story is both the biggest strength and weakness of this album. The narrations, lyrics and music is a painful listen because it hits home as straight in my solar plexus. That hurts and makes this album a far from comfortable listen. It is not an everyday album.
It's biggest strength is the music. The music has been created with a full symphony orchestra which is backing up some Genesis and Marillion type neo prog. 1000 Wishes is in my view a symphonic prog album with neo prog vocals and some thin sounding neo prog structures too. The storyline is excellent, in a very disturbing painful way and the music is great too. 1000 Wishes is a great album which has made me donate some more money to my local cancer charity. The album really highlights the issue very few dare to speak about; young children with cancer. The band deserves eternal credit for that alone. But most of all; this is a great album, albeit a painful listening experience which has taken a lot out of myself. And so it should.
4 points