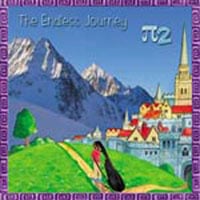 The third album from this Spanish supergroup. A so far spectacular underwhelming Spanish supergroup.
Their first two albums did not really do anything for me. Pi2 delivers a mix of commercial AOR and symph prog/fusion on The Endless Journey. I should had already seen the warning signs when I looked at the incredible cheap and tacky cover artwork. The artwork serves more like a warning than a buy-this-album invitation. The album starts off with some vocals rich AOR/neo prog in the US style. Very tacky and very bad. Cringeworthy is the word here where the vocals intertwines with some 1980s sounding synths and guitars. OK, some melody lines are pretty good though and the album improves a lot after we are getting the AOR stuff left behind us.
The final half of this hour long album is occupied by the twenty-five minutes long title track. A track which is a mix of symph prog and fusion. It is also dominated by keyboards. Spanish folk music also makes a guest appearance here. Besides of that, this track serves more like a cure against insomnia than anything else.
In short; this is album has some good melody lines inbetween some underwhelming and cringeworthy material. It is not worthy our attention though. Avoid.
2 points