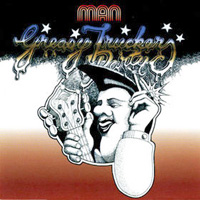 Two tracks, the two Man tracks, lifted from the triple album from the same legendary 1972 gig. A triple album which also included, amongst others, Hawkwind.
This album is merely half an hour long. The first track Spunk Rock occupies twenty-one minutes of this album. The other track Angel Easy occupies six minutes.
Spunk Rock is an overlong space rock/blues rock which neatly sums up both this scene and Man. Excess all areas. This is not a bad track at all. It starts with a wimper and closes pretty strongly. Cut the first seven minutes and this track would had been a good track.
Angel Easy is a much more structured track. Still not a good track, but still not too bad.
In short; this is not a release for me and I wish I had got the triple album instead.
2 points