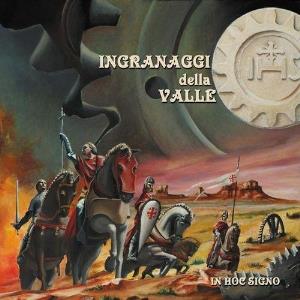 The debut album from this Italian prog rock band.
I have no idea where Ingranaggi Della Valle comes from in Italy. I have no idea how old they are and what they did before. I know nothing. I just goes by their music. And the music is a new and pretty refreshing take on the good old Rock Progressivo Italiano genre. A breezy 2013 version of that genre. Their personal take on the genre.
The Rock Progressivo Italiano ingredients are there. The Hammond organs, the Italian vocals, the violins and flutes, the typical Italian electric guitar sound, the mix of folk and hard rock. A couple of commercial folksy tracks in the good old Italian tradition. That and a lot of jazz too which I guess is their personal take on the genre. This is a pretty funky, contemporary album. It also has a couple of superb songs in the form of Mare In Tempesta and Finale. The first one with it's PFM like classic song structure. The latter one with it's funky jazz. An hour with this band flies fast. Too fast for my liking. The repeat button has been used on a frequent basis.
In short; Italy is throwing up a lot of great new bands now. Ingranaggi Della Valle must be added to this list. In Hoc Signo is one heck of a debut album. Not a classic album, but still one heck of a debut album.
4 points