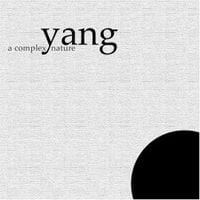 The debut album from this French band who went onto releasing another album in 2009 too.
The band originates from the split up Philharmonie, a French eclectic prog band who released five albums.
Yang is a different entity altogether. The lineup of this four piece band is guitars, bass and drums. The fifty minutes long album is entirely instrumental.
The music is pretty harsh and atonal at times without really becoming avant-garde. It has a lot of post rock influences though and is very much minimalistic. There is a lot of King Crimson references here too. Most of all; this is a bit of a jazz album with mostly jazz guitars, bass and drums.
The music is not too bad. Fifty minutes of this and even the most hardy listener will find this a bit of a hard album to really appreciate. There is no really good melodies here either. The band is just sporadic showing up some good to great details. Hence my verdict.
2 points