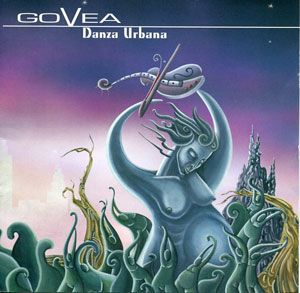 The debut album from this Mexican symphonic prog band.
Govea is the brainchild of Salvador Govea on the keyboards, Luis Guerrero on bass and Victor Valdovinos on percussion.Yes, that is the same setup as ELP. Comparrisons with ELP is unavoidable, I am afraid. But where ELP got their inspirations from the European and US culture, Govea is inspired by their homeland and the Latin-America scene. Al Di Meola's music seems like a big inspiration to this band.
The result is a good fusion between classical music, symphonic prog (ELP) and Latin-American jazz and fusion. Good, relaxing listening, you would say. Not quite.... The added avant-garde elements to their music does not make this an easy listening album. The music is pretty hard to digest at times. Most of this album does not have many good melodies either.
Hence, Danza Urbana is therefore a pretty eclectic album. It is an album I find good, but not a great album. I like what I hear, but there are far better albums out there in this genre. A very good status is awarded.
3.5 points